Important Information When Ordering Commissions of Pastel Portraits: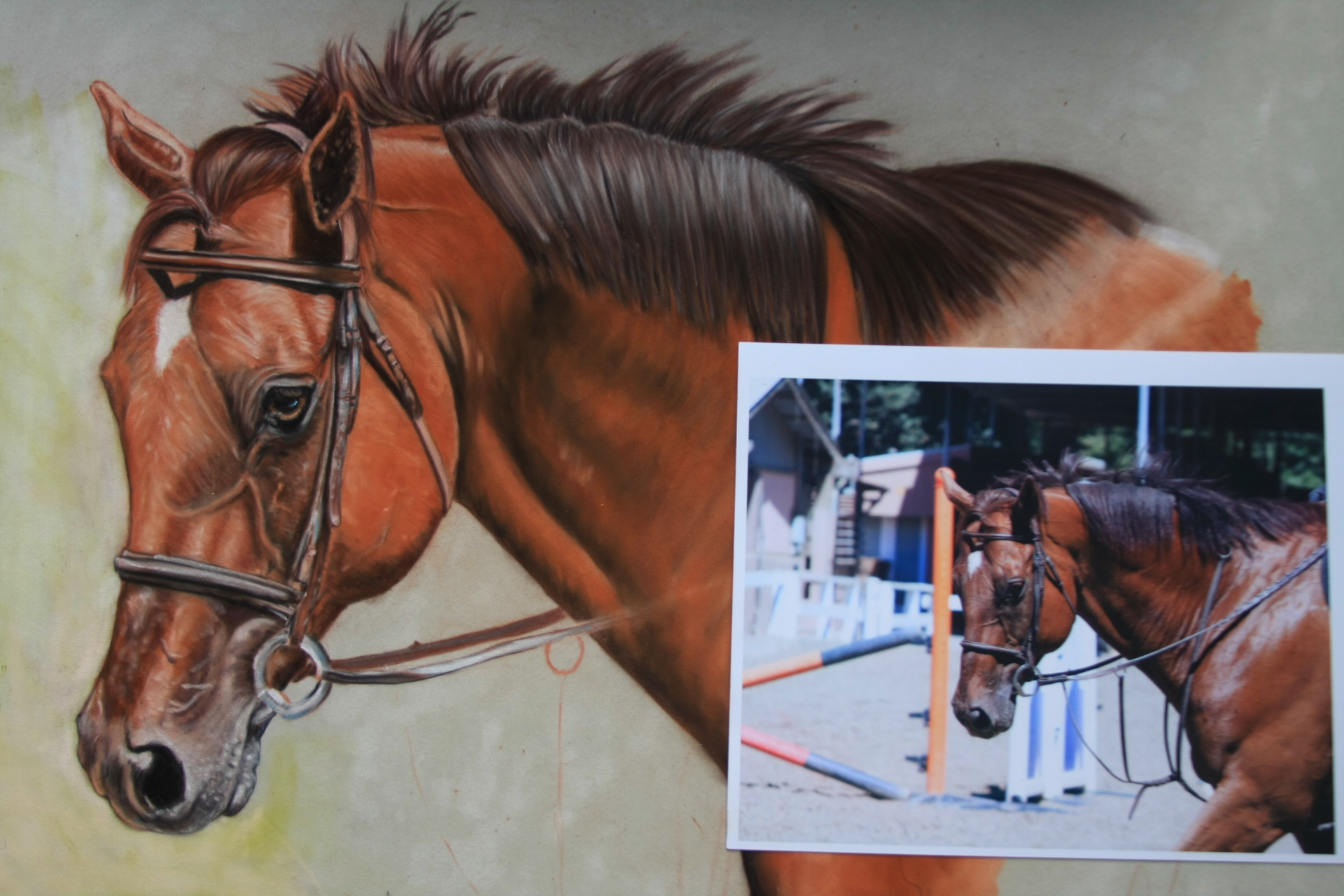 Portait Sizes can and do vary depending on desires and needs, but typically sizes are as follows:
          16" x 20"
          19" x 24"
The smaller sizes are generally suitable for capturing (1) animal head like your  favorite dog or cat etc.  The larger sizes are typically suitable for larger animals like (1) horse head, but can be used for a larger sized portrait of a smaller pets head as well.  I can also do multiple pets on a portrait, but this is only available on larger sheets, for an additional fee.
If you desire a full body portrait, please contact the Artist.
Portraits do not include any matting or framing.
As shown in the portraits on this site, I do not normally add in backgrounds as I feel it usually takes away from the animals personna.  
In order to ensure your continued satisfaction once you receive your comissioned portrait, here are some basic instructions for the care of the portrait when received.
Do not spray any type of fixative onto the portrait.
Do not touch the pastel areas as they may and can smudge.
Always make sure, when framing one of my portraits, that the frame glass is placed over a mat.  THE GLASS SHOULD NOT TOUCH THE PORTRAIT.
For best viewing results, it is recommended that "Museum Piece Glass" be used.  Ask your framer for more information.
Requirements If You Provide Photos for your Portrait:
The photo should picture the pose you would like to see the animal in the portrait.
The quality of the provided photo will determine the quality of the finished portrait.  Clarity and true color is critical to assure the quality and satisfaction of the finished portrait.  Please ensure that the photo(s) of the animal are CLEAR, IN FOCUS and FILLS MOST OF THE FRAME OF THE PHOTO.
Please provide (2) or more clear, close up photos of each animal face and (2) more photos of the full body in the pose you wish to see the final portrait appear.
Typical time frame required for portrait completion is (4 - 6) weeks from approval of your photos.  I do get VERY busy from October through December preparing for the holiday season.  So please order and send photos as early as possible should you desire to comission a portrait for the holiday season.   If there are special circumstances required, that do not fit the typical time frame. outlined above, please contact the Artist, as many times we can adjust our schedules to meet your needs.  This depends greatly on the current workload, but we will make every effort to accomodate your needs.
If you do not have a quality photo (35mm or minimum 300dpi digital photo) and live in the Northern California area, it may be possible for me to meet you and your pet and take the necessary photos for you.  However, please do understand that all travel expenses would have to be agreed upon and paid for upfront, prior to travel.
Portrait Sizes can vary, but typical sizes are:

16" x 20" with (1) animal (Head Portrait)      $250.00  US
19" x 24" with (1) animal (Head Portrait)      $400.00  US
Contact Artist for background color options. 
For portraits incorporating more than (1) animal per sheet, contact the Atrist for pricing.
Portrait pricing of sizes not listed, Please contact the Artist.
Portrait pricing  does not include any matting, framing, applicable taxes, shipping or shipping insurance.
For California residents, California State/Local Sales tax is currently 8.75%
I accept Credit Cards, Debit Cards and E-Checks through Paypal.  
​You can use this PayPal button to make a Deposit Payment or a Final Payment for a commissioned custom pastel portrait of your beloved Pet.